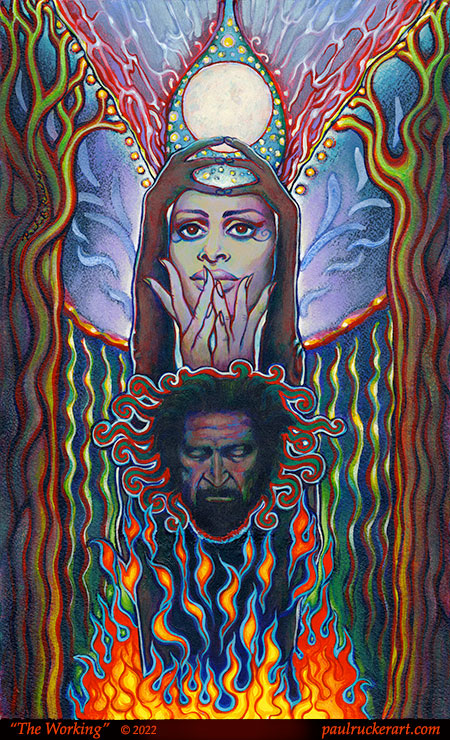 The Working (2022)
"For he is ever a sun, and she a moon. But to him is the winged secret flame, and to her the stooping starlight." (Aleister Crowley, The Book of the Law)
My magus burns with intense inner focus as he performs his working; the purifying ardor of his meditation kindles etheric fire. The architecture of his mudra haloes his soror mystica, his partner in the Inner Planes; she wears his embrace like a headdress. Her crown expands in emanations of shimmering light. In this secret place of power, they combine their potencies; with her eyes he sees through the warp and weft of hidden things.
This painting can also be seen as an image of the alignment of the three souls that is a core practice of Anderson Feri witchcraft. This female and this male are united as are the Talker and the Fetch, beneath the serene orb of the God-Self. Both interpretations symbolize gnosis, a knowing that arises from unity and completion.
Who is this flower above me
and what is the work of this God?
I would know myself in all my parts. (Feri prayer)