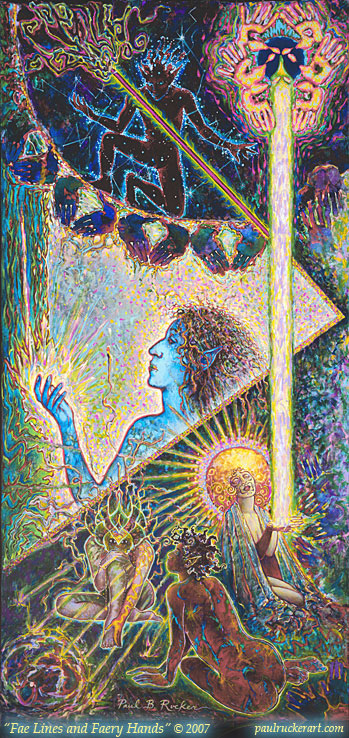 Fae Lines and Faery Hands (2007)
This painting is the end result of one of my longest journeys in the dreamtime where visions waiting to be born as art are found: it began five years ago in New Orleans and has transformed over and over again as I have waited to hear it speak to me. The three faery women, "working the roots," have always been there, and likewise the fae man at the top.
But the Blue Lady was a complete surprise; I saw her profile appear by accident; in drawing her out it appears to have completed the circuit. So much change and transmutation is overseen and accomplished on the subtle levels of energy– this painting seems to be all about that.
(Note: I think of the leftmost woman on the bottom as a nod to the style of Leonora Carrington; for there is something bewitching in the masked elementals she conjured in many of her magically inspired surrealist paintings.)