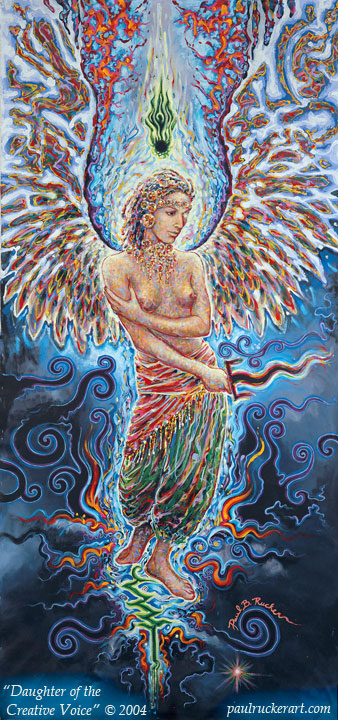 Daughter of the Creative Voice
("Bat ha-Qol ha-Yetzirati") (2004)
A messenger of Divine Passion, of the world-making Lust of God, my Daughter's angelic condition partakes of all sexualities and yet transcends them. From the Empyrean s/he descends to Earth to renew the Call of God's Desire.
The name I have chosen to give hir is a variation of "Bat Qol" ("Daughter of the Voice"– usually the stern voice of Divine Judgement); hir name here invokes the holy power of Creativity and authentic vocation: to make and do what the God within us must.
For this we need courage: the flamelike sword s/he carries and the black flame above hir head refer to "the Black Heart of Innocence" from which all acts of daring proceed.